Les Peupliers campsite
WATER PARK
Between its heated pools, aquagym classes, giant slides and paddling pool, Les Peupliers campsite's water park offers a multitude of fun activities.
SWIMMING POOLS
Enjoy a memorable holiday at Les Peupliers campsite. Have tons of fun in a superb water park under Occitanie's blazing sun. With a 300 m2 heated pool, a 600 m2 equipped beach and a spa area, you can spend your day alternating between refreshing dips and topping up your tan.
Little ones can splash around in the secure paddling pool. There's also an adapted slide, so younger members can get the same thrills as the rest of the family.
And what about using your holiday time to discover some new activities? Our campsite's qualified swimming instructors hold aquagym classes in the water park. Free and adapted to all levels, these morning sessions will gently get your muscles moving.
And for even more fun, you'll have access to Le Bosquet campsite's water park too! Situated next door, you can recharge your batteries in lush surroundings. With its paddling pool for little ones, entertainment and swimming lessons (from age 4) the whole family will have a fantastic holiday at La Marina du Canet.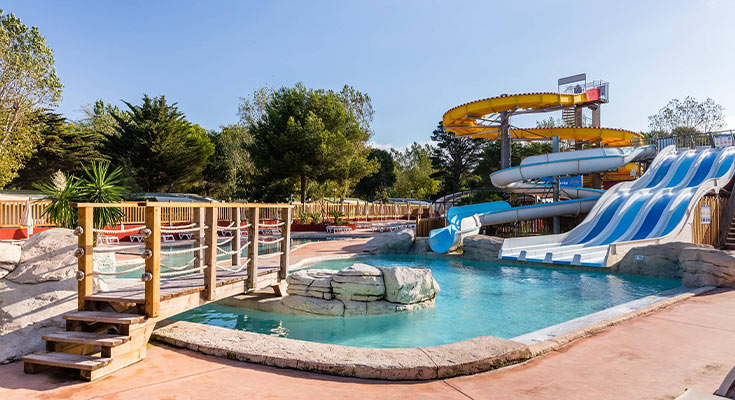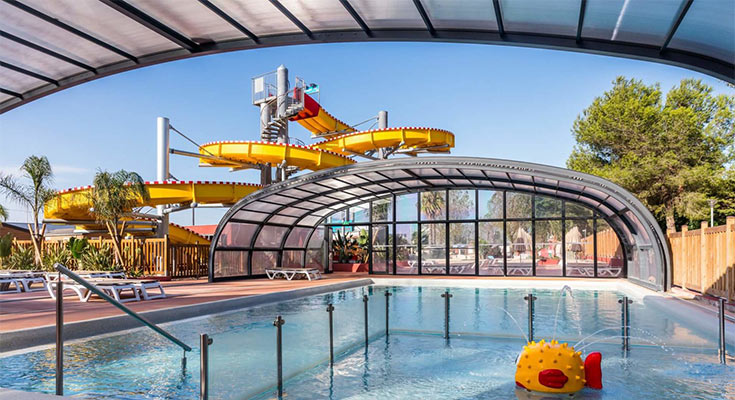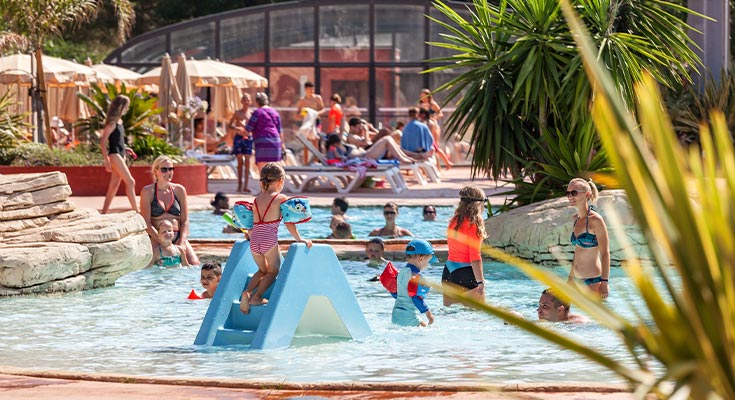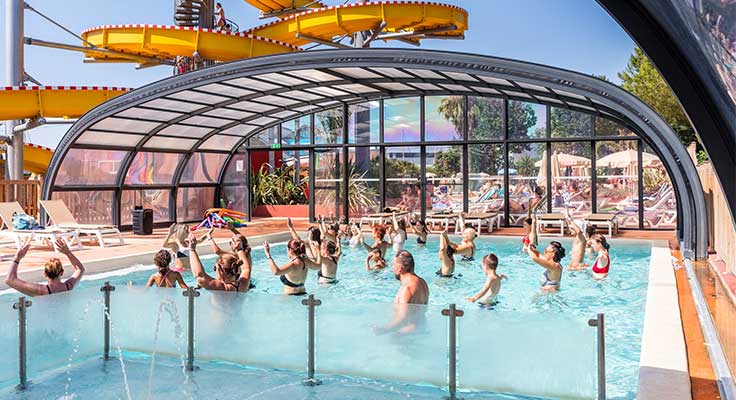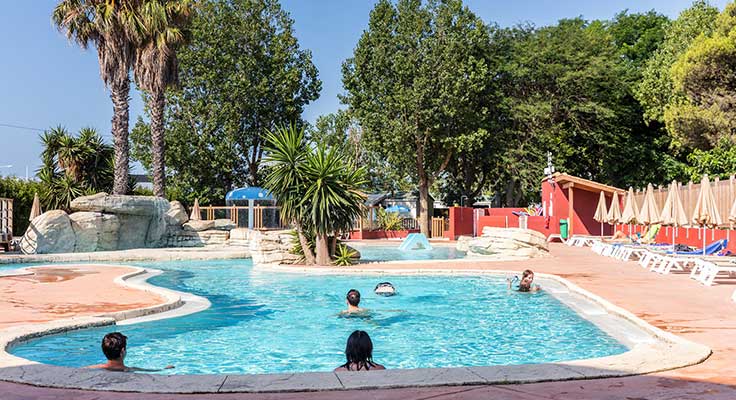 GIANT SLIDES FOR THE WHOLE FAMILY
Les Peupliers campsite's water park has giant slides for the whole family.
Our water park underwent improvements in 2020. In addition to its secure paddling pool, Les Peupliers campsite now also has a giant slide and a 4-lane pentagliss slide.
Kids, parents who fancy a laze, sporty types and thrill-seekers will find all they need in our water park for a well-earned refreshing break.
Old and young can enjoy super facilities in our water park:
a SpaceRacer giant slide for fun with family and friends;
a covered heated pool;
a huge solarium.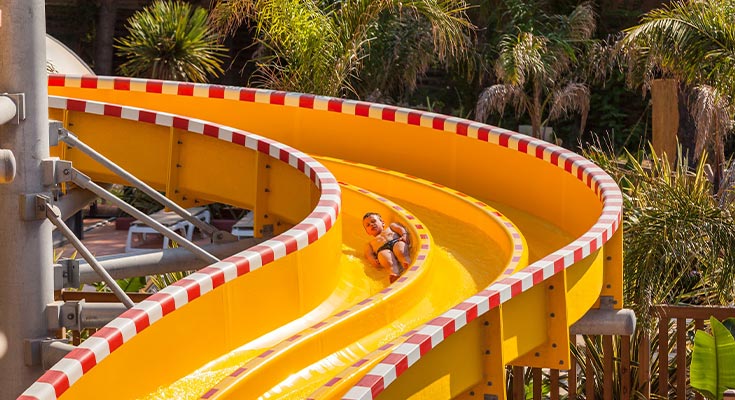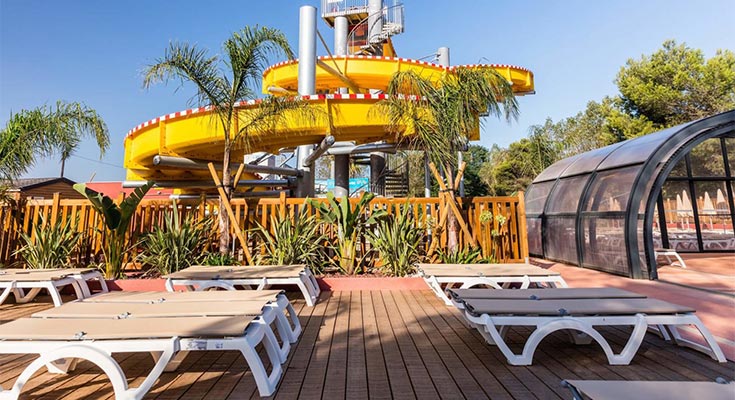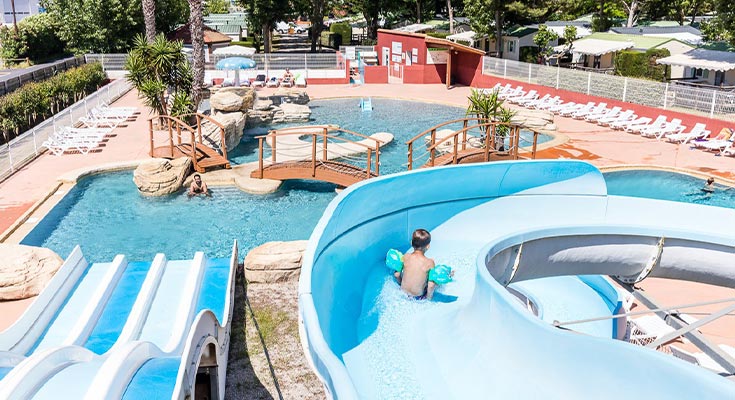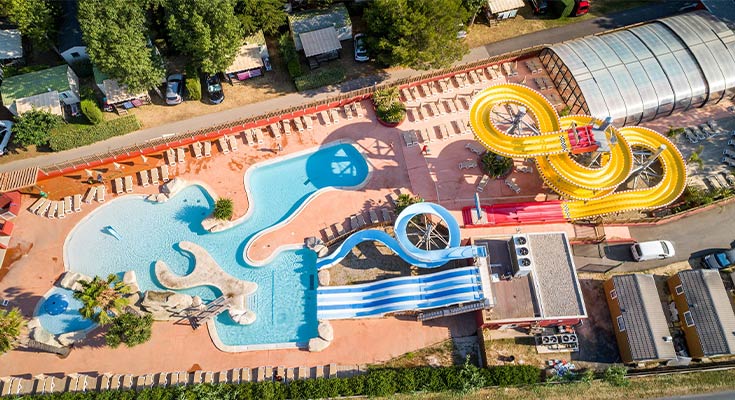 PRACTICAL INFORMATION
Les Peupliers campsite's water park is all about having fun. Here is some useful information, so everyone can make the most of the campsite's water park during their stay with us.
Pool area opening dates: from the beginning of April to the end of September
Opening hours: July August 10am – 8pm
April May June September 10am – 7pm.
Closed 2 mornings per week
Wristbands must be worn at all times
Swimming trunks only – no shorts/bermudas allowed
Children under 12 must be accompanied by an adult if they use the swimming pools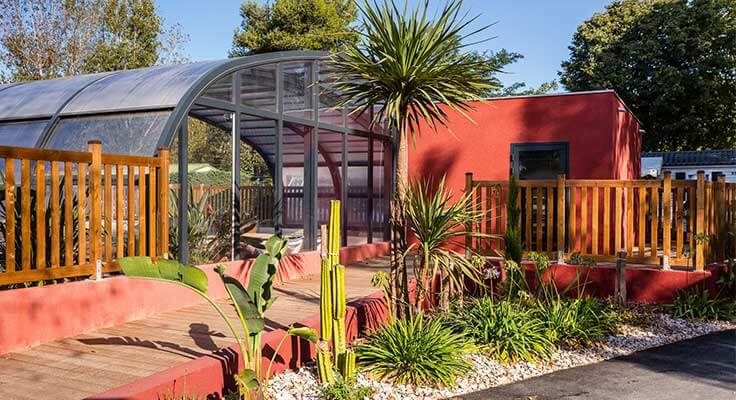 LE BOSQUET CAMPSITE'S WATER PARK
During your stay at Les Peupliers campsite, you'll have free access to our neighbouring Le Bosquet campsite's water park.
A refreshing oasis, Le Bosquet's water park is set in lush surroundings. Its greenery makes it perfect for some peaceful downtime.
Settled on loungers under straw parasols by the side of its 80 m2 pool, you can enjoy crystal clear water protected from wind, or enjoy themassaging jets in the whirlpool. Young and old can also relax under the water park's water fountains.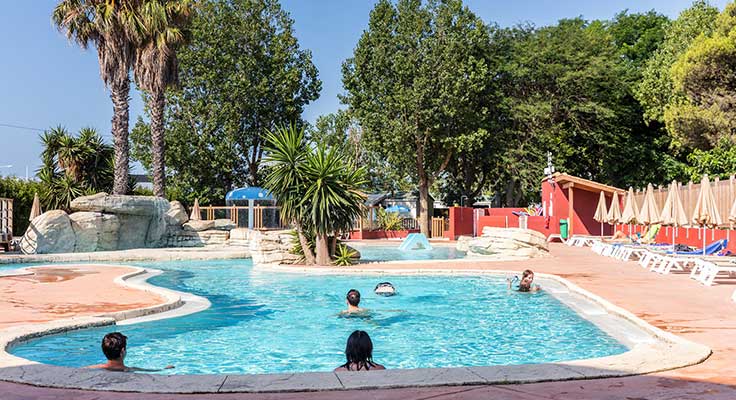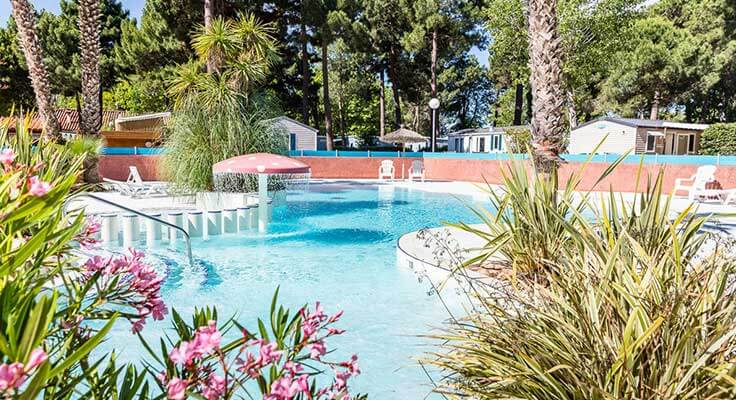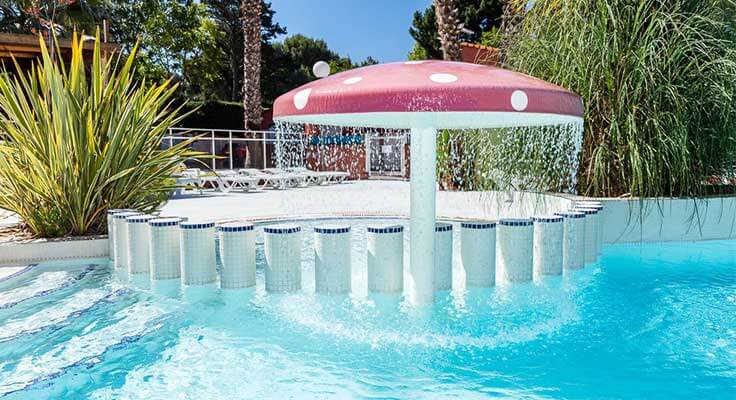 DISCOVER LE BOSQUET CAMPSITE'S WATER PARK